Empty space, drag to resize
Bookmark today!
Emergency Resources
Essential first contacts and useful resources if you encounter problems during your international experience.

For anything not covered below, check the U.S. State Department website:
Empty space, drag to resize
U.S. State Department Emergency Help
911 Abroad
Download PDF reference for emergency service contacts
U.S. State Department
Emergency resources from the U.S. State Department
State Department Legal Help
Where to go for help if you have legal trouble abroad
Loss and Theft
Lost Passport
If your passport is stolen, report its loss immediately (Note: this will render it invalid)
Lost phone
A guide to everything you should do if your phone is lost or stolen
Essential References
CDC Travel Health
Pre-departure guidance and up-to-date travel health news
U.S. Embassy Contacts
Contact details for U.S. embassies around the world
Steps to Take in an Emergency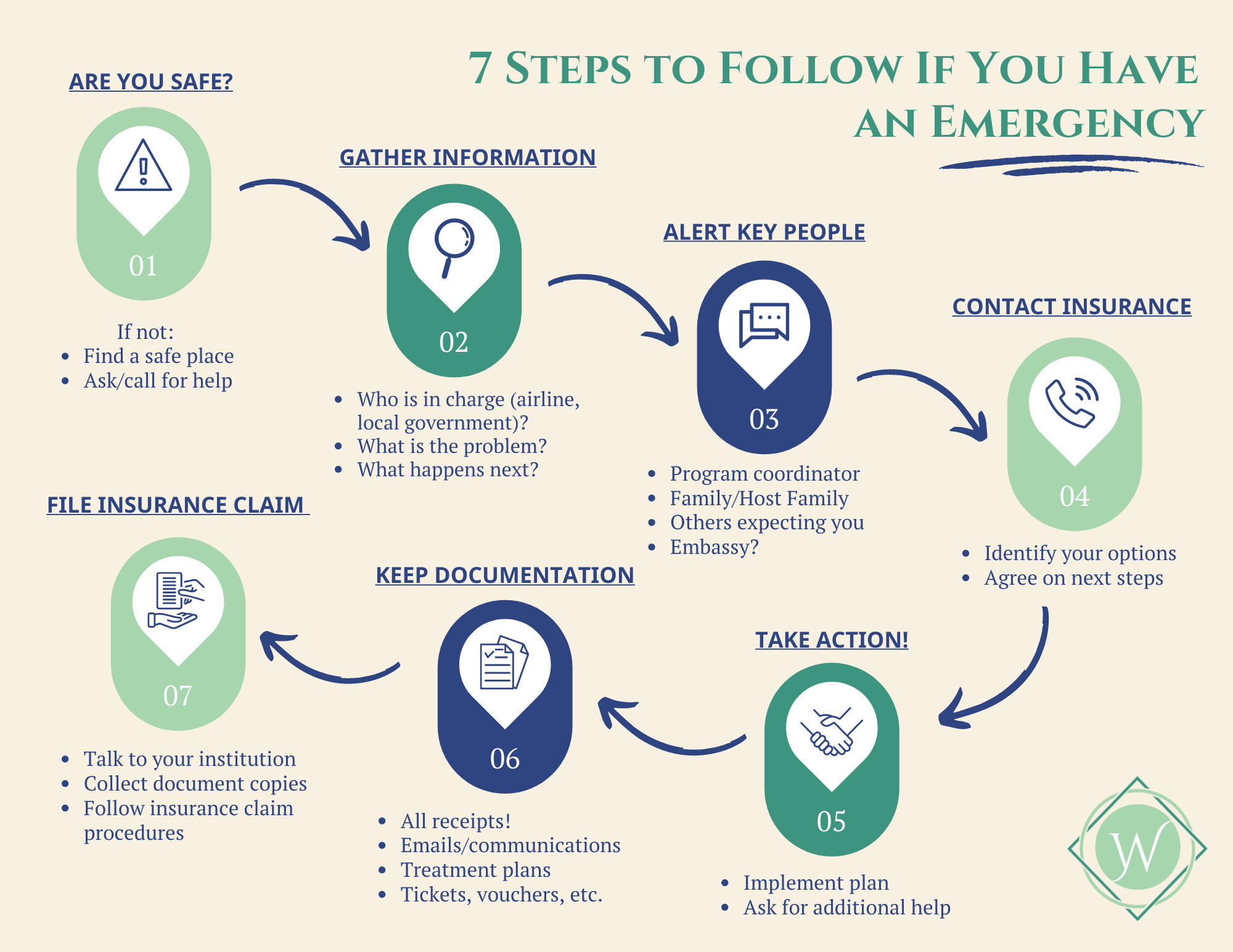 In case of emergency: flow chart.
Are you safe? (if not, find yourself a safe place and possibly contact your embassy)
Gather information (Who is in charge (your airline, local government)? What is the problem? What happens next?)
Alert important people (such as university co-ordinator, your family, or hosts who may be expecting you)
Contact insurance company (they will help you to identify your options and agree your next steps) Take action! (discuss with your key people and get things sorted)
Keep all documentation (receipts, emails, tickets, vouchers, etc.)
Make a claim if applicable (Talk to your institution and insurance company about your claim)
If disaster strikes, make sure you are safe first of all.


Then find out information about your situation from representatives of those involved (e.g., your airline - Is your luggage missing or just delayed? Can the airline put you on a later flight, or are you stuck?; your medical provider - Does the situation require hospitalization?; etc.)

As soon as you can, contact your insurance company. Insurance company representatives will talk you through your options and what to do next. They will tell you if they can solve any issues on your behalf, whether they can get funds to you if necessary, or any conditions for spending that can be reimbursed later.

Remember to KEEP ALL RECEIPTS of any costs you incur related to situations and items covered by your insurance. Many insurance companies require you to pay the costs up front and to seek reimbursement later, but you must have receipts to claim reimbursement.

* If you have refundable portions of your trip (e.g., tickets, accommodations, etc.), your insurance will not cover these unless the vendor refuses a full refund. Normally, you will first have to contact your travel salesperson, hotel, or airline, to confirm your cancellation policy and receive any refund due. If you are not due to receive a full refund, your insurance provider will pay you the rest once you can show confirmation of what is and is not refunded.